Want to join the College Tutors team?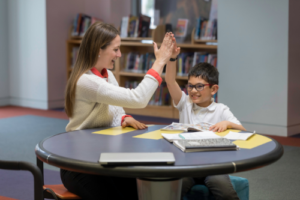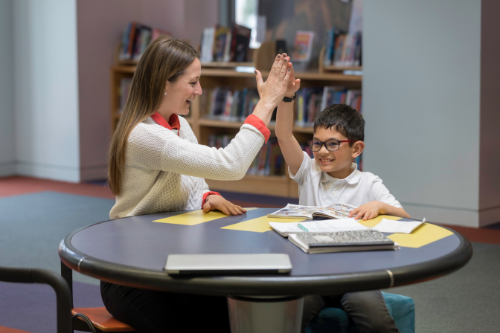 We at College Tutors of Indiana/Spark Tutoring, firmly believe that nearly all students are capable of proficiency.  In fact, we think many students are capable of accomplishing more than they think they can, and personal, one-on-one tutoring can be instrumental in helping students exceed their goals.  Proficiency means opportunity, and that is why we love to tutor!
If this resonates with you, and you love helping students overcome challenges, achieve their goals (sometimes helping them define their goals), while building confidence, let's set up some time to discuss how can help make a significant impact in a student's life.
Our tutors embody our core values of Can Do, Results Matter, and Leave it Better...and:
Believes in the potential of all students and has a natural drive to help each student achieve their academic goals. 
Has a strong work ethic and demonstrates a high level of professionalism.

Consistently

 reliable (you don't need to be told that showing up on-time – consistently – is a must).
Provides students with academic assistance and guidance to students, serves as a role model to students.
Implements the tutoring strategy within timelines established by family and College Tutors of Indiana.
Plans and prepares for each tutoring session using student material as a guide.
Ability to maintain a consistent schedule each semester.  (This is a flexible position with availability chosen by the tutor, but maintaining a consistent schedule each semester, based on your chosen availability, is critical).
Evaluates student progress toward goals and determines appropriate courses of action .
Assists in the development of a positive attitude toward learning, studying and academics.
Submits session notes for work within 24 hours of completion of session.
Maintains updated availability in the College Tutors tutor platform.
Competent in at least one of the core subject areas: Math, Science, Language Arts, or History.
Critical Thinking: maintains good judgment, time management, trustworthiness, and responsibility.  Can evaluate student understanding and use appropriate teaching methods.
Communication Skills: ability to listen to others, provide appropriate feedback, communicate professionally to develop and maintain successful work relationships.  Demonstrated ability for effective report writing and communication with both students and adults.
Interpersonal Skills – can build rapport with student, parents, family members; able to work both independently and collaboratively.
At least one year certificate from a college or technical school or currently enrolled in higher education institution.
Has experience tutoring and/or teaching.
NOTE: If you have no formal tutoring experience but do have experience with helping colleagues, family members, or friends with their schoolwork, we do consider strong candidates with limited tutoring experience.
Must have source of reliable transportation.
Is available to complete the entire semester.
Must pass a background check.
Private, one-on-one in-person tutoring in our Carmel Learning Center:

Math, Science, History, Writing, Language Arts, And SAT Prep tutors.
Must be able to tutor in-person at our Carmel Learning Center at least two days/week, after school. Weekend availability is a plus.
High Dosage Tutors to tutor elementary or middle school ELA or Math, on-premises at the school located in Indianapolis:
This is a unique, on-premises tutoring model that offers consistent and steady hours. Our tutors are making a lasting impact on their students and find this position to be extremely fulfilling. Available days and hours, during school days, are Monday through Friday, 9:30am – 3:30pm. Tutors must be able to tutor at least two of the available five days/week – either at least two full (9:30am – 3:30pm) or (3) half days during school days.
We are excited to meet you. Please tell us a little about yourself.