Proficiency = Opportunity
Let's discuss how our High Dosage Tutoring model can accelerate learning, close gaps, and make a lasting impact on your students.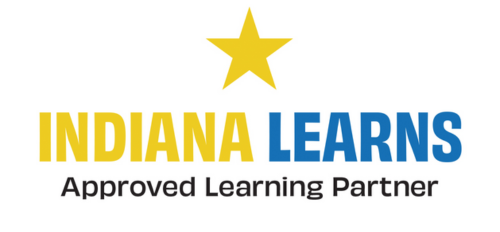 High Dosage Tutoring for Schools
Accelerate Learning and Close Learning Gaps with a Proven HDT Model
College Tutors of Indiana strongly believes nearly all students are capable of achieving proficiency. The conviction that all students can, with the right resources and support, perform at an academic level needed to create exciting post-high school opportunities for themselves, is what drives us at College Tutors of Indiana (also known as Spark Tutoring). In our book, every student counts – regardless of race, family situation, or zip code – and deserves access to the tools needed to gain the knowledge and confidence for realizing their true potential, ultimately empowering them with choices…choices that lead to fulfilling and rewarding lives, benefiting them and their communities.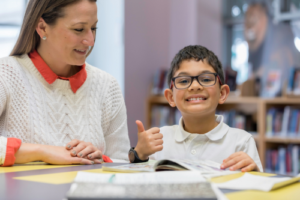 One of these tools is tutoring.  One-on-one, in-person tutoring is an opportunity to exclusively focus on a student's unique challenges, and untapped capabilities.  The right tutor not only helps that student improve academically, but becomes a mentor, naturally encouraging the student to see their real potential, gaining confidence in themselves.   We love seeing that "a-ha" moment in our students – that SPARK – that breaks through self-doubt – often creating a life-changing shift in attitude that builds towards self-sufficiency.  For schools with students experiencing significant learning gaps but with limited options for tutoring, a High Dosage Tutoring model is a powerful solution for closing those learning gaps.
High Dosage Tutoring is a Proven Strategy to Accelerate Learning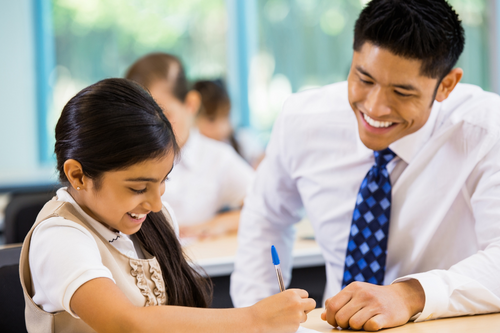 College Tutors of Indiana offers a proven In-Person High Dosage Tutoring (HDT) model, executed through a staff of experienced tutors, mentors, and leaders.  We believe that the HDT model is one of the most effective ways to close learning gaps in the United States, growing students to the levels of proficiency needed for academic and career success. According to a 2021 study conducted by EdResearch For Recovery, one of the most critical factors behind the effectiveness of tutoring is frequency. For tutoring to substantially impact learning outcomes, it must occur consistently and in high doses—as with any skill, repetition is key, and the more sessions a student has with a tutor, the more they will improve.
In-Person Frequency is Key
High Dosage Tutoring also facilitates the development of a relationship between the tutor and the student— as the student becomes more comfortable with their tutor, the tutor gains a better understanding of the student's learning needs. Studies show that tutoring positively impacts students of all ages, roughly increasing achievement by an additional three to 15 months of learning across grade levels.1 Another review of around 200 rigorous studies discovered that high-dosage tutoring—defined as more than three sessions of tutoring a week or at least 50 hours over 36 weeks2—is one of the only academic interventions with significant, tangible effects on student achievement in both reading and math.3
The College Tutors of Indiana/Spark Tutoring model resulted in our students' growth in proficiency at a rate of 4x – 12x as compared to non-tutored students, as measured by the students' 2021-2022 ILEARN (Indiana Learning Evaluation Assessment Readiness Network) assessments. 
College Tutors of Indiana HDT ILEARN Results
2021-2022 School Year - Proficiency Growth in Math
Proficiency Growth 
All Students
by Grade:
 3rd: 22%
4th: 9%
5th: 9%
6th: 6%
7th: 6%
8th: 11%
Proficiency Growth
HDT Students
by Grade:
3rd: 86%
4th: 89%
5th: 100%
6th: 71%
7th: 100%
8th: 92%
A high-performing High Dosage Tutoring model that will help to accelerate learning and close learning gaps starts with an assessment of existing gaps, clarification of growth goals, and an understanding of all related factors of the HDT engagement.  These factors can include curriculum and supporting academic systems, scheduling logistics, school protocols, teacher/staff/tutor team relations, methods for measuring progress, structure of each session, day-to-day operations, and other factors.
The College Tutors of Indiana HDT model is executed through a team of enthusiastic tutors dedicated to the success of their students, and managed by a team committed to ensuring that the HDT goals of the school are achieved.  Some aspects of our model that help to ensure success and a consistent and productive experience for the students, their teachers, and staff include:
All tutors are thoroughly vetted and trained, including:
Three interview steps, including mock HDT scenarios
Complete, employment-level background screen
Group training and 1:1/peer-to-peer role-playing HDT scenarios
Onboarding at school, working in tandem with the school staff
All tutors are direct, W-2 employees of College Tutors of Indiana, insured, and accountable to a local management team, including the College Tutors of Indiana Learning Director.
For larger groups, an experienced HDT Tutor Coach is placed in the tutoring area to support the tutor team and school staff and teachers.
Ongoing one-on-one tutor/management check-ins to review productivity, address challenges, and make needed adjustments.
Mid-semester aggregation of best practices that tutors share and apply to improve personal tutoring productivity.
Weekly meetings between tutoring team and school staff to review progress and address challenges.
Mid-semester and data checkpoint to review progress and address needed adjustments.
Post-semester data checkpoint to debrief and review adjustments and next steps.
In line with our philosophies about the potential of every student, we feel all students, regardless of race, socioeconomic class, sexual orientation, physical challenges, or family situation should have access to resources needed to support their academic efforts, including tutoring.  Recognizing the resource constraints experienced by some families, we make adjustments for these students, when possible, in our private tutoring practice.  We also have experienced how High Dosage Tutoring, when made readily available to students, addresses these resource challenges, and eliminates a barrier to much-needed personal tutoring.   We know that the right education with the appropriate supporting tools will prepare students with the skills they need to pursue their dreams beyond high school…and indeed create a more just world!
We'd love to learn about your school and discuss a potential partnership!