Are College Entrance Exams Still Relevant?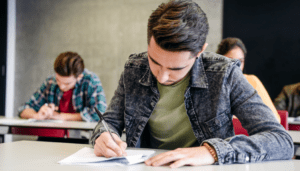 A frequent question we hear at College Tutors is "Should I take the SAT (or ACT)?"  If you are college bound, this question has surely crossed your mind.  Given the investment needed to prepare for the SAT or the ACT, and the fact that many colleges have stopped requiring admissions exams, it's an important question that needs to be addressed.  A recent article in The Atlantic, "The SAT and the ACT Will Probably Survive the Pandemic – Thanks to Students," sheds some light on this topic.  The link to the article is below.   Here are some key points we gathered from the article:
More schools have decided to stop requiring the SAT or ACT for admissions…however:
Entrance exam scores are one of many factors considered in the admissions process.
"Test optional" does not mean admissions will not consider test scores.
Entrance exam scores are one of a few quantitative factors considered by admissions.
High test scores can lead to scholarship funds.
Colleges of all types and locations from Davidson College in North Carolina to Vassar in New York have made the tests optional for three next years as part of a pilot program. They plan to re-assess at the end of the timeframe to determine if the change in process impacted the quality of student success.  Princeton's Dean of Admission, Karen Richardson recently said, "While our policy has long been that SAT subject tests are recommended but not required, now seems the appropriate time to reiterate that applicants who do not submit subject tests will not be disadvantaged in our process." She added, "SAT or ACT test scores are one part of our holistic review."
"Holistic review" and the metrics used in the review of a student can indeed be subjective, and a constantly changing dynamic.  Many parents question if they want to chance their child's application being eliminated or negatively weighted in the eleventh hour.  As the admission process changes, and considering the years of hard work already invested in high school a safe bet is to simply TAKE THE TEST.  Increased opportunities for scholarship funds should also be taken into consideration.
As always, we recommend reaching out to your target school's admission office for clarity on this, and other admission-related topics. Schedule time with an advisor to have a real conversation about this topic to help better understand your options.  To learn more about our Test Prep tutoring, click here:  College Tutors SAT Test Prep Tutoring
Learn more about College Tutors Test Prep Tutoring